Roll over image to zoom in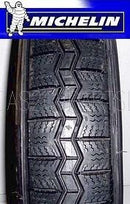 Description
There are some horrible 'copies' (even counterfeits made for a big French 2cv parts supplier) of the Michelin X, they are not worthy of your 2cv.
The Michelin 'X' was introduced as original fitment at a time when Citroen was actually

owned

by Michelin - it can only be the best.

We do not sell copies

of Michelin X because Michelin still make the original and it is the best.
All of the 'copies' of Michelin X are made in China, their rubber is hard, the copies are also difficult to fit and they wear VERY quickly.
The Michelin X is the original tyre that was made for the car!
Load rating of: 68 = 315kgs per tyre.
Speed rating of: S = 112mph maximum.
Tubeless: = Do NOT use an inner tube.
Ply: R = Radial ply.
Payment & Security
Your payment information is processed securely. We do not store credit card details nor have access to your credit card information.
Estimate delivery charges