Roll over image to zoom in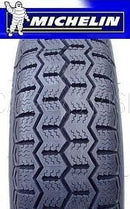 Description
The correct tyre for Acadiane, Ami 8 and AK400.
Perfect for all 2cv6, Dyane and Mehari, fine & sturdy road holding from this tyre.
Michelin ZX is a 1968 (when Michelin still actually owned Citroen) continuation of the famous Michelin X, the first radial tyre.
Improved tread and carcass design reducing fuel consumption.
These are S rated tyres capable of speeds up to 113mph.
Designed for comfort with a flexible side wall.
The ZX has lots of sipes to move water and provide plenty of grip.
Beware - there is an English speaking business which describes their poor quality copy of this tyre as being 'made by Michelin' - that is utter rubbish - Michelin do not make re-branded copies of their own tyres in China.
Payment & Security
Your payment information is processed securely. We do not store credit card details nor have access to your credit card information.
Estimate delivery charges