Roll over image to zoom in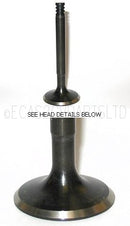 Description
In fact these valves are not one piece, however customers expect them to be, the stem is a different material to the head because the two areas of the valve have totally different functions.
These valves have the stems waisted behind the valve head cause less obstruction to the moving gases.
Payment & Security
Your payment information is processed securely. We do not store credit card details nor have access to your credit card information.
Estimate delivery charges