Roll over image to zoom in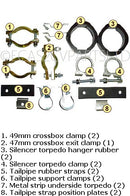 Description
Contains all clamps required to fit a full 4 part exhaust system to a 2cv, does not include paste.
Not suitable for M4 602cc or any 425cc or 375cc engine.
The torpedo rubber hangers in this kit are NOT the rather superior lifetime guaranteed ones which are available separately here.
Payment & Security
Your payment information is processed securely. We do not store credit card details nor have access to your credit card information.
Estimate delivery charges