Roll over image to zoom in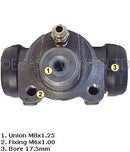 Description
For 2cv 1970>6/81, Dy. 1970>7/77, 3.5mm pipe, not LHM.

AK400 or AK350 uses 19mm bore cylinder as original, the original size is no longer available so this cylinder should be fitted and used in pairs only.
Payment & Security
Your payment information is processed securely. We do not store credit card details nor have access to your credit card information.
Estimate delivery charges