Roll over image to zoom in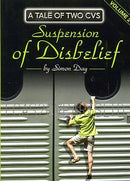 Description
The second book written by Simon Day about his time with and love of 2cvs and other machines, with an angle on the search for the meaning of life.

\ Extract from the book:
Continuing the stories of A Tale of Two CVs, I invite you to settle gently back into that soft, spongy seat, slightly loosen your white-knuckled grip on the steering wheel of life, drop down a gear and put your foot down. Revel in an unrestrained festival of some of the most iconic vehicles rarely to grace the tortuous roads of this Sceptred Isle.

May it be, for all of us, a transport of delight; on a journey to the tiny, exquisite village of St Sory-over-Load, via the A602 - the road less travelled.

Are there two 'CVs'? Two curriculum vitae - two courses to life? In addition to the all-too-visible earthly course, is there a spiritual agenda? Are our struggles in the material world the reflection of a cosmic wrestling match in an ethereal realm? \ Like an eager diver and an inquisitive dog, I want to get to the bottom. The bottom, of that most vital of matters: the meaning of life. Is it possible to know more?

Would you like to come with me?I began, in the first Tale of Two CVs, in search of the Driving Spirit, and where has it got me? Where indeed? Still with huge questions about the meaning of life, and still looking for answers.
Payment & Security
Your payment information is processed securely. We do not store credit card details nor have access to your credit card information.
Estimate delivery charges